We provide a comprehensive restringing service for all Tennis, Squash and Badminton rackets.
Our stringing service starts the moment you arrive in store.  If you're unsure as to what string would be best for you, our experts will be happy to guide you through the various strings and their advantages to make sure that you have the correct type of string for your game.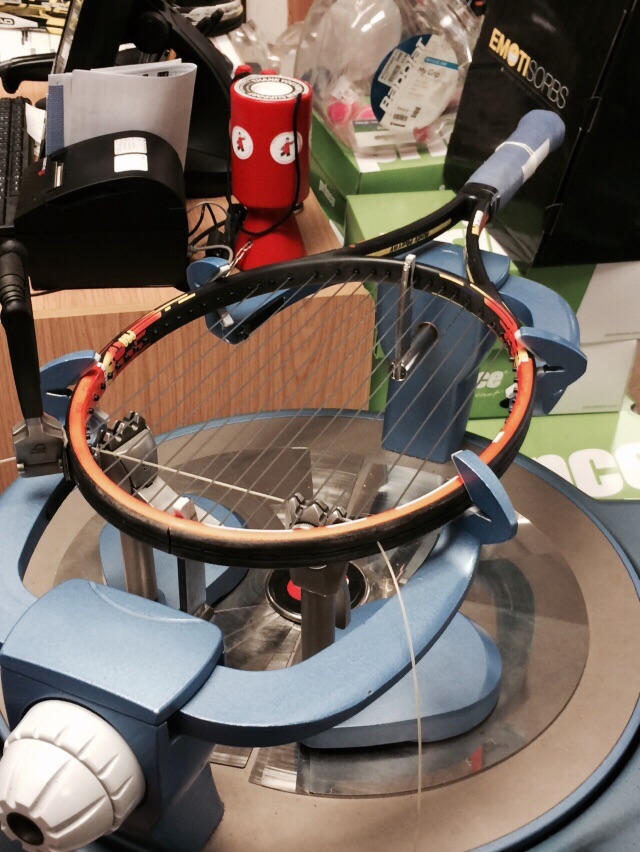 Wether we're stringing for Andy Murray or it's your first time to get a restring, we take the same care and attention with every racket. We also keep a comprehensive record of all stringing work undertaken. This is particularly useful if you're unsure what you had last time and want the same again!
We string all of the rackets on site utilising our two top of the range Babolat stringing machines. We carry a huge range of strings from all the top brands: Babolat, Wilson, Luxilon, Tecnifibre, Yonex, Prince, Head, Ashaway and many more!
Our standard turn around time is 48hrs. Next day or same day will depend on workload.
A while-u-wait service is available upon request and is chargeable £10 extra. (Please call ahead to book a time slot for this service)
We can also replace grips and over-grips on the spot, replace worn bumper guards and butt caps.
Alter grip size and also logo the string if you so wish.
Prices range from £20-£50 depending on string type (the most popular synthetic string is around £25)
You're welcome to provide your own string for which we charge £15 labour.