Professional Racket Tuning
Unstrung Customs is a tennis racket customisation service that can optimise your racket to the highest professional standards.
Our team of experts have over 45 years of experience between them.
We take care of everyone, from the keen amateur to the highest level pro tour player.
Unstrung Customs are based in London, UK and Marbella, Spain with the option of postal service throughout Europe.
OUR SERVICES
Racket Stringing
Customising
Weight
Balance
Swing Weight
Grip Size and Shape Adjustment
Video Consulting
Racket Painting
RACKET STRINGING
All stringing is done to the highest professional standards on fully electric constant pull machines.  With our extensive knowledge and experience we are happy to help in recommending strings and tensions that might better suit your game.  Having strung for players such as Andy Murray, Maria Sharapova, the Bryan brothers and many more, your rackets will be in the best hands.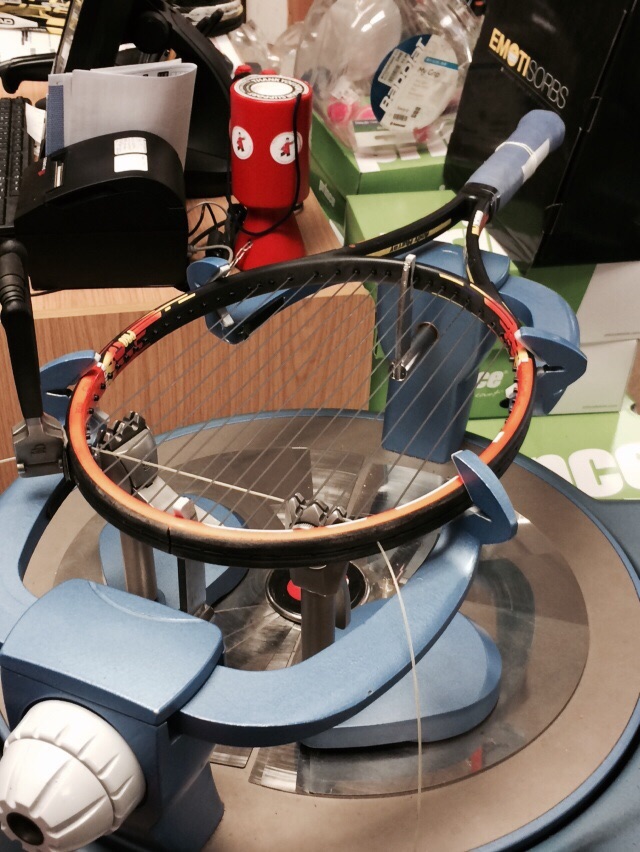 Andy Murray's racket being strung
CUSTOMISING
Along with stringing Unstrung have been customising rackets for many years and have developed an expertise for it. They have customised numerous rackets for a number of leading ATP tour professionals and also regularly customise rackets for keen amateurs who want to replicate and improve the feeling of their favourite racket. When customising you are able to adjust the static weight, swing weight and balance of a racket to exactly how you would like it.
The key benefit of having a racket customised is that it allows a player to have a racket that fits their own physique and playing style, providing a subtle but important on-court advantage. We firmly believe there is nothing like having a racket that has been customised just for you. It gives you full confidence in your racket and can help push players to the next level of their game.
GRIP ADJUSTMENT
We can adjust the shape and size of your grip so that it fits your hand just right. We can also replicate the shape and size of an existing racket and apply it to a new frame.
VIDEO CONSULTING
With Unstrung we also offer video consulting because each player's racket should be unique to their size, technique and playing style. Therefore for us to see a player hit can be hugely beneficial with aiding in their racket customising.
RACKET PAINTING
We can take your frame and paint it any colour you like, providing it's one solid colour. Painting your racket can give it a new lease of life after one too many scrapes on the floor. However before painting your racket bear in mind that it can add between 5-10grams in weight to the frame and also make the frame a little stiffer.
Below you can see an example of some player frames that were painted matt black.